Pilot Implementation of CollabDDS at Medical/ Dental Colleges
With the proof of concept having gone through successfully, a Pilot Project for Implementation of CollabDDS at Medical and Dental Colleges and Hospitals has been undertaken. This is an extension of the POC to the Operational Research Phase as a prelim to rollout. This pilot implementation is used to evaluate the efficiency and effectiveness of remote diagnosis. Further this phase also incorporates a module which carries out Cephalometric analysis for orthodontic surgeons to enable diagnosis and treatment planning of their patients. This phase would also include the Enhancement of CollabDDS and Advanced Applications on 3D imaging. It would involve the reconstruction of 3-D models from CT / Surface images, development of methodologies for orthopedic implant development using 3D models.
The first version of the CollabDDS v1.0 was released on July 04, 2012. Based on the continuous feedback from the experts, latest version 2.4 was released on August 29, 2018.
For the Pilot Implementation of CollabDDS the Medical colleges collaborate with the Department of Radiodiagnosis, AIIMS and the Dental colleges collaborate with CDER, AIIMS. The following Colleges are participating in the Pilot Implementation of CollabDDS:-
Since October 2014, over 100 cases have been discussed during the collaborative sessions. The Cases covered a wide range of modalities including X-rays, CT, MRI and Scanned images of X-Rays. The cases discussed were from different domains such as Nervous system, Extremities, Abdomen, General Medicine Pediatrics, T. B. & Chest, General Surgery, Surgical Gastroenterology Orthopedics Ophthalmology Otorhinolaryngology (ENT) Cardiovascular and Thoracic Surgery Neuro-Surgery, Plastic, Surgery, Urology, Cardiology Neurology, Gastrology, Nephrology, Endocrinology, Obst & Gynae and Dental.
Sawai Man Singh Medical College, Jaipur
Dr. S.K.Agrawal, Professor & Head, Department of Radiodiagnosis
"CollabDDS provides us real time image sharing with image annotations which is very helpful for the user & I found it user friendly. By collaborative sessions we have a wide range discussion on the topic of interest & it helps us in getting common agreement on discussed topic & some time it also help us to see the other aspects of our diagnosis. It enables us to have precise conclusion which is definitely helpful for the patient as they have opinion of superior centre at their local place. In summary CollabDDS & Collaborative sessions are very helpful & succeeded in fulfilling its objectives."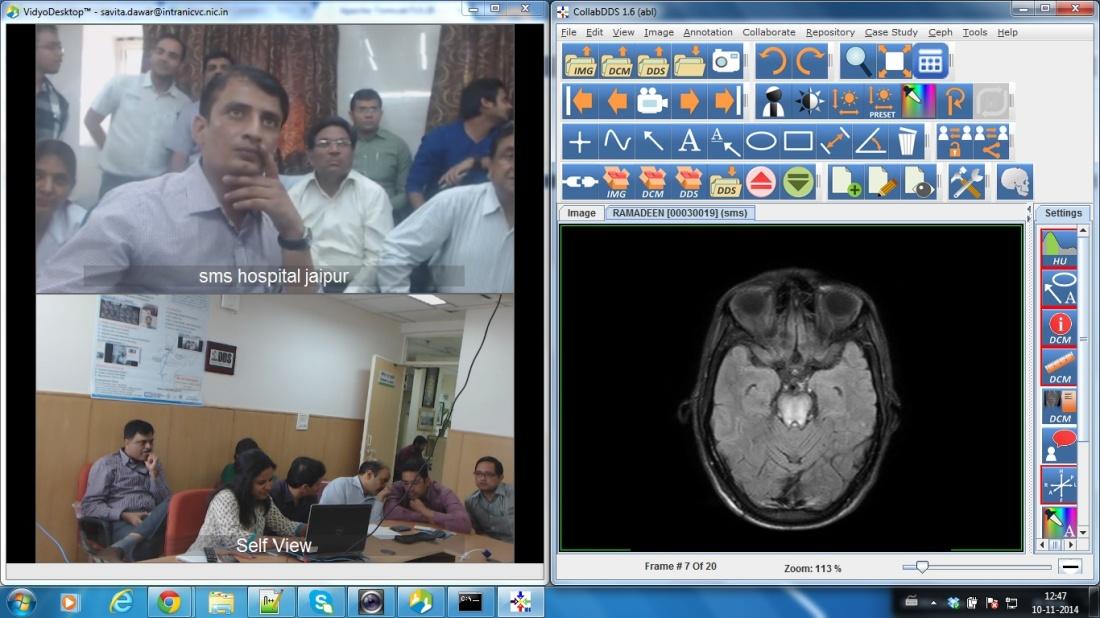 SN Medical College, Agra
Dr. Shamrendra Narayan, Asst. Professor & Head, Department of Radiodiagnosis
"Discussions between radiologists of two centres were rewarding as both sides were able to exchange their views especially in relation to patient profile of their centres. Diagnostic benefits were also appreciated in this regard where at least in 3 cases prioritization of differential diagnosis was altered."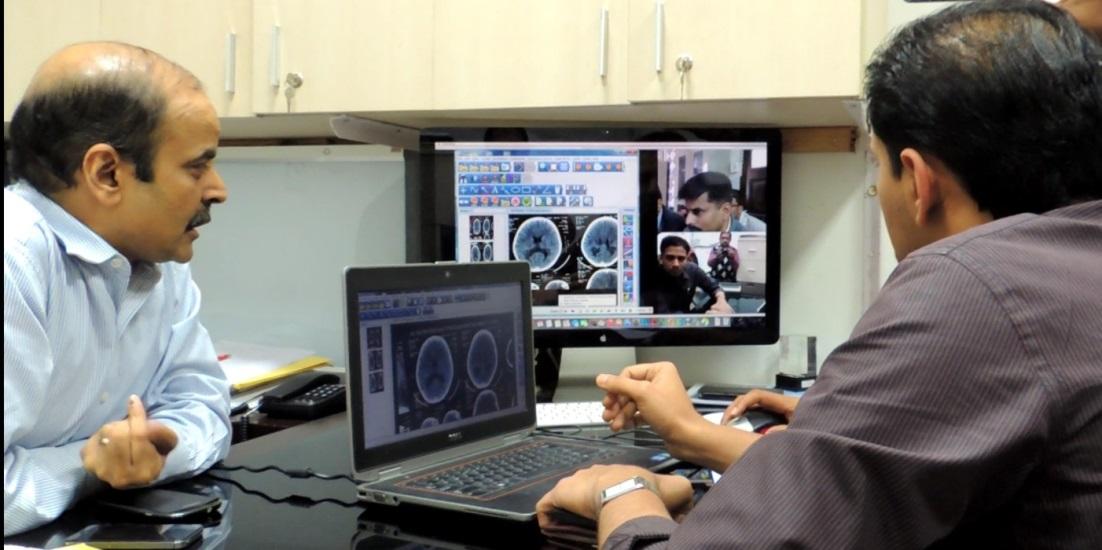 King George's Medical University, Lucknow(UP)
Dr. Anit Parihar, Associate Professor, Department of Radiodiagnosis, Faculty of Medical Sciences
"CollabDDS allows us to interact with best teachers of India. It gives us the chance to discuss about the rare cases and rare presentation of unusual cases. This discussion is highly beneficial for us."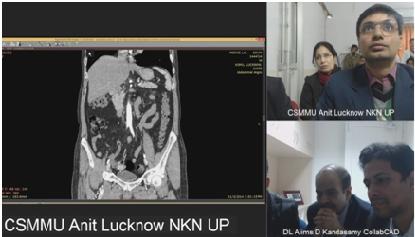 Dr. Richa Khanna, Assistant Professor Department of Pedodontics and Dr. Saumyendra V Singh, Associate Professor, Department of Prosthodontics, Faculty of Dental Sciences
"We had successfully discussed and exchanged information regarding one clinical case scenario related to 'Eruption failure', its clinical and radiographical presentation, provisional diagnosis, and possible lines of treatment with eminent expert from AIIMS, New Delhi. The discussion helped in identifying alternative management techniques for the case presented. The positive aspect was that there was exchange of information with direct communication through videoconferencing. The transfer of information to both sides was smooth."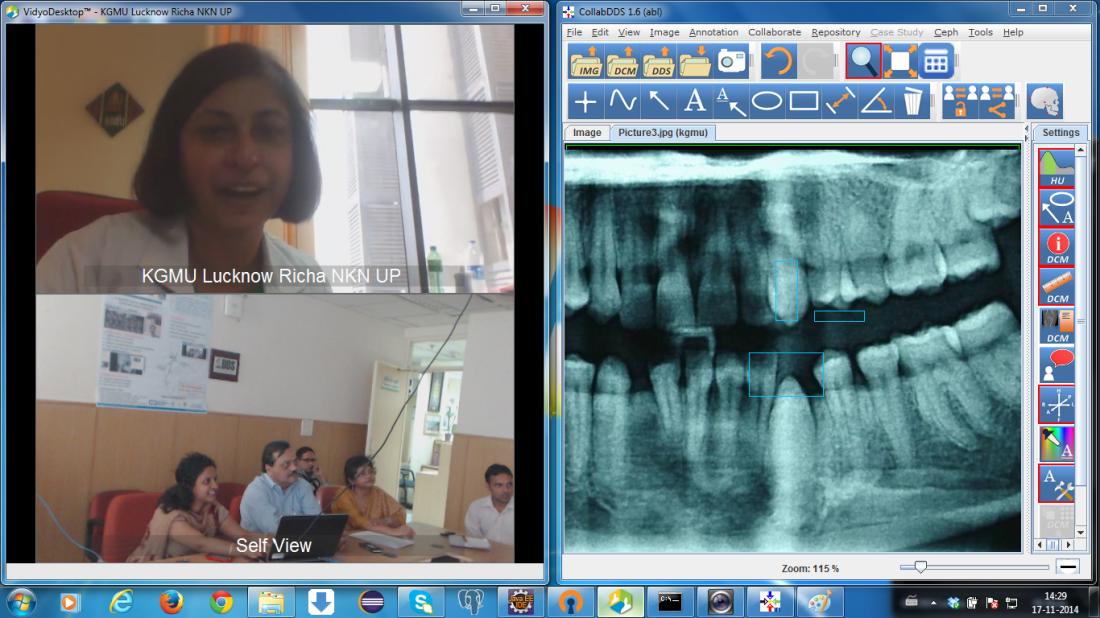 Government Dental College, Ahmedabad
Dr. Piyush Limdiwala, Assistant Professor, Oral Medicine and Radiology
An Endodontic case was discussed between Dr. Abhishek, Assistant Professor from the Department of Endodontics, GDCH, Ahmedabad and Dr. Ajay Logani, Additional Professor, Department of Endodontics, CDER, AIIMS, New Delhi. For the expert opinion, photographs and scanned Intraoral Periapical Radiographs (IOPAR) images of Dense Invaginatus, at Pre-operative, Surgical and Post-operative stages were shared using CollabDDS. Annotations and comments were used to elicit the preoperative defects and healing defects on images. Dr. Ajay Logani has delivered his knowledge regarding new diagnostic and treatment modalities for this particular case.